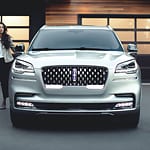 The Lincoln Aviator is the mid-size SUV that brings real American power to the luxury world. So what are the top performance features of the current model Aviator. Here is a look at what this top Lincoln SUV has to offer.
The Lincoln Aviator comes standard with a 400 horsepower engine that allows the Aviator to go from 0 to 60 miles per hour in just 5.4 seconds. This allows the Aviator to carry all the passengers and cargo that you need and have the passing power that you want on the highway.
If you are looking for an even larger expression of power, the Aviator Grand Touring edition comes with an advanced hybrid system that provides up to 494 full system horsepower. With this hybrid system, you can take the Aviator from 0 to 60 miles per hour in just 5.1 seconds.