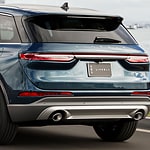 When you're looking for a luxury vehicle, you don't want to sell yourself short. Ask our employees at Livermore Lincoln and we'll be happy to recommend the Lincoln Corsair. The expert design elements of this vehicle make it truly a ride like no other.
Have you ever heard of a vehicle with ambient lighting? Now you have. The Lincoln Corsair has ambient lighting functionalities that allow you to set the mood inside the vehicle. You'll feel like you're driving in a limousine when you select one of seven ambient lighting colors at the start of your trip.
You can stick with the same color if you find a favorite, or try a different color for every day of the week. Why not spice up your daily Livermore commute? You'll be surprised how much a simple thing like lighting can completely revolutionize your tedious commute. You can also use it to delight or surprise your kids. We guarantee they'll have a lot of fun playing with the colors!