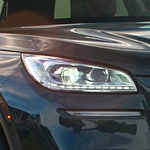 The Lincoln Corsair is changing what one should expect from a compact luxury SUV. In fact, the Corsair has one of the top design features of any vehicle in its class. Here are two major design features found on the current model Corsair.
When you reproach the Corsair, the SUV gives you a presentation unlike any other. With the keyfob in your possession, the vehicle will welcome you with a sequential lighting presentation, an illuminated logo mat and a soft LED exterior glow. You have never experienced anything like this in another SUV in this segment.
The Lincoln Corsair also brings a high level of design inside the Corsair. That is thanks to the available Vista Sunroof. Unlike other sunroofs in luxury SUV, the Corsair offers a sunroof that covers nearly the entire roof. This allows all five passengers to enjoy an open air riding experience.